In The Back Seat With The Chinese Restaurant Road Trip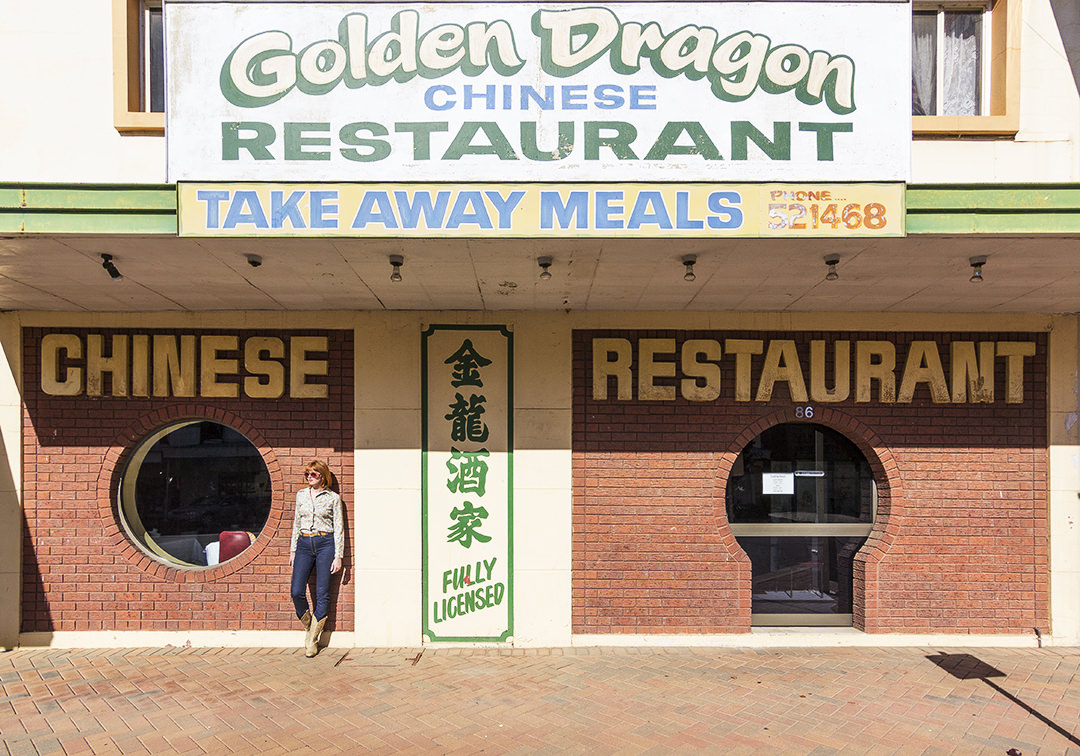 We spoke to the couple using Instagram to capture the nostalgia, kitsch and quirks of Chinese restaurants outside of our major cities.
Inspired by Kodak family photos, polaroids and the work of photographers John Margolies, Juno Calypso, Roger Minick and Rennie Ellis (to name a few), The Chinese Restaurant Road Trip is the brainchild of creative couple Anna Satin and Josh Burns; an aesthetically-appetising documentary piece that spawns from their own 'love affair with road tripping, photography, kitsch Chinese restaurants and vintage fashion'.

"We're both curious people and we love to explore places and ideas. Travel brings an element of surprise to our relationship. We got married in the Joshua Tree National Park last year and went on a road trip through the Southwest to celebrate. Our decision to do that was very much in keeping with our approach to life."

Over a two year period, they've clocked up close to 70 visits to a myriad of Chinese restaurants scattered across regional and suburban parts of Victoria, New South Wales, Tasmania and the Gold Coast. Now they have an ambitious Queensland expedition firmly in their sights.
"We'll be making the journey from the Sunshine Coast to Far North Queensland this winter. The history of Chinese migrants is really significant in that area and they were pioneers of the agricultural industry. Queensland is a treasure trove of glorious Chinese restaurants and the vibe lends itself to bright colour and tropical prints which should make dressing up loads of fun."
How do you pinpoint the restaurants that you want to feature? Is there a process, or does this happen organically?
The internet is an invaluable resource. There's a process of preliminary research we do before we set out on the road. Sometimes when we're visiting family and friends in the country we'll spot an old faded Chinese Restaurant sign and hit the brakes, so it can be spontaneous too. We're always delighted when people write in and suggest a restaurant they think we might like to visit. We also get inspiration from movies and TV shows, like the classic Aussie films Muriel's Wedding and Love Serenade, in which Chinese restaurants play a starring role.
why did the humble suburban or regional Chinese restaurant appeal so much?
The fun of a road trip is in leaving the city and exploring unfamiliar landscapes. The Chinese restaurants we photograph haven't succumbed to the pressures of modernisation and gentrification. They're rare gems that transport you to another time. There's an honesty about them which we find really refreshing, and of course it's about nostalgia, too. They have an enduring appeal and poetic charm that is equal to American diners, and we embrace them in that light.
Why do you think food, fashion and photography work so well hand in hand?
There's something cinematic about that interplay between the restaurant setting, fashion and photography. We play with the space but it's always candid documentary. The use of vintage fashion helps us recreate the past and blurs the boundary between fantasy and reality. The Chinese restaurant with its unique decorative elements often sits in stark contrast with its surroundings and we aim to capture that quality.
"There's something cinematic about that interplay between the restaurant setting, fashion and photography. We play with the space but it's always candid documentary."
What's the most geographically-isolated restaurant you've visited?
Perhaps the Golden Sea Dragon in Coonabarabran, which is the star-gazing capital of Australia. The natural landscape surrounding the town is beautiful. One of the absolute joys of the project is we get to visit out-of-the-way places that we might not have experienced otherwise. Coona is a small town over 5 and a half hours drive from Sydney but when we dined there on a Friday night the restaurant was packed. It's quite palatial with opulent décor and a vast menu that runs the gamut of classic dishes from a prawn cocktail starter(!) to Sizzling Mongolian Lamb. The menu still contains the requisite 'Australian meals' section. The dining experience was old-fashioned but in a deeply enjoyable way.
how do restaurant owners generally react when you approach them?
We don't make prior contact with restaurants, except to call and check that they'll be open! And even that can be strangely unreliable – we've had occasions where we've unexpectedly been greeted with a closed sign on the restaurant door. We're living in an age where people photograph themselves and their food in public constantly, so as long as we're ordering a meal, the staff don't tend to mind. The way we go about it is really informal and we walk into the restaurant just like any other customer.
"The thing about Chinese food in Australia is that it was always about adaptation and reinvention, and modern restaurants are building on that tradition in complex and innovative ways."
Why do you think Chinese food is currently experiencing a resurgence in popularity?
We have noticed a wave of contemporary restaurants in metropolitan areas that have expanded diners' notions of what Chinese cuisine entails. This includes putting a new spin on classic westernised Chinese dishes, such as 'Sesame Prawn Toast', as well as drawing on more diverse regional styles. The thing about Chinese food in Australia is that it was always about adaptation and reinvention, and modern restaurants are building on that tradition in complex and innovative ways. Nostalgia for classic Chinese-Australian food can certainly be part of that experience.
What's something restaurateurs could learn from these places?
Don't be afraid of the past and give heritage the respect it deserves. What we love about the restaurants we photograph is that they take you on a mental holiday. Minimalism has its place, but for us it's not just about what's on the plate, it's equally about the atmosphere and being immersed in the space. There's a theatrical element to the Chinese restaurant that is missing in other places.
What's one dish you think every Chinese restaurant shouldn't be without?
Special Fried Rice.
Is there one restaurant that stands out as an all-time favourite? If so, what makes it so special?
Sing Hing in Sylvania, Sydney is like a dream. It has this stunningly ornate emerald green interior that harks back to its 60s origins. Our charming young waiter was dressed in a tux and bowtie and the soundtrack to our lunch consisted of Chinese versions of 70s easy-listening pop songs. The food was uniformly excellent – the salt and pepper tofu still lingers in our minds and we've recreated it at home since, with great results!
What is it about Chinese restaurants that's given them such generational longevity?
Chinese migrants were traditionally marginalised in Australia, meaning Chinese restaurant owners struck out on their own, staying true to their identity. They were (and are) hardworking and self-reliant in often culturally isolated settings. Chinese restaurants offer a dining experience that is unpretentious and consistent - people take comfort in the familiar. At the same time they offer a respite from the mundane. More than ever, the children of Chinese restaurant owners in rural areas are moving to the cities to study or work in professional roles, so that intergenerational legacy is perhaps on the wane.
Have you considered the idea of doing a 'road trip' of restaurants in China?
Now that's a different trip entirely. How epic would that be!

Join The Chinese Restaurant Road Trip journey by following them on Instagram.